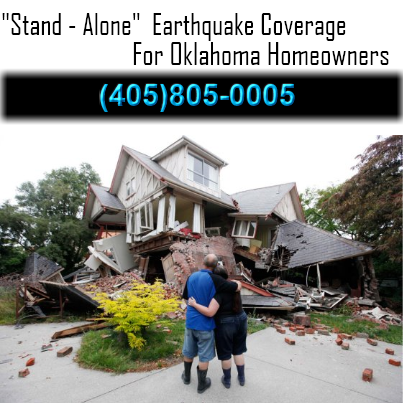 Don't want to type all this stuff? Just give us a call at (405)805-0005 and we will quote you right over the phone! We have "real" humans, right here in Oklahoma standing by to help you with your insurance needs!

Please be aware of how we quote earthquake insurance
:
We collect all the necessary information from you in order to determine the correct rating for you. We then use that information in order to determine an estimate for your insurance. Some of the things we may input include your name, and date of birth. This information may be used to pull a record of your claims history and insurance/credit score. If you have questions or concerns about this
please call us before
filling in the quote request below at (405)805-0005. By completing the information below you are providing us permission to pull your reports.

WE DO NOT RE-SELL your information-- you are dealing directly with the insurance agent!

*
Means we must have this information in order to quote you accurately

Many Homeowner's insurance companies in Oklahoma do not offer earthquake coverage; or they offer earthquake coverage that excludes "oil & gas activities" aka fracking (sic) or "fracing".

This "stand alone" earthquake insurance product covers oil and gas activities and also covers brick veneer. Currently no waiting period is required. Rated "A-" Excellent by A.M. Best.
Oklahoma Insurance Department Admitted carrier.
Deductibles available from 5% to 20%. Several coverage options available.

Sample rate from 02/2016:
Edmond Oklahoma Zip Code 73012, 1 story home on a slab, built 1983, value $178,000
Rate: Superior Level policy with 10% deductible - $217 a year
other policy options as low as $164 a year for this same home

Don't put it off any longer!
Get Earthquake coverage for your home before it is too late!
As earthquakes become more frequent .... it is gettng more difficult to obtain coverage in Oklahoma.

Start by getting a FREE Quote!

Information updated on 2/11/2016, call our office for current rates or submit a quote online